Neptune Chemical Pump Company Inc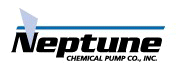 Neptune Hydraulic Diaphragm metering pumps are typically used for chemical metering in process and agricultural industries. Chemical metering pumps are available for high and low pressure applications with manual and electronic stroke control. Please click on the Metering Pump button to view the full line of our metering pump products.
Metering Pumps
Abaque® Series peristaltic hose pumps are manufactured and shipped from the Pump Solutions Group (PSG®) facility in North Wales, Pennsylvania. Abaque Series pumps feature a seal-less design that eliminates leaks and product contamination, and have the ability to run dry continuously without adversely affecting the pump's performance.

Pulse Metering Pumps | Neptune Series PZ, PZi, PZiG Pulse Metering Pumps

PZD Series pumps offer higher capacities. These model feature an extra large keyboard and the injection rate can be entered directly in millimeters per second. PZiG Models offer capacities typically requiring motor driven pumps. Special models easily handle viscosities to 1000 CPS (up to 4000 CPS at reduced volume).

Series 500-E offers an economical alternate to the standard Series 500 "dia-PUMP" or an opportunity to "step-up" from packed plunger pumps to a true hydraulic diaphragm pump at a modest cost increment.

High Viscosity Metering Pumps V-Pumps

Neptune high viscosity, flat diaphragm "V-Pumps" are designed to accurately meter viscous fluids up to 5000 cP such as polymers and other thick liquids.

High Volume Low Pressure Metering Pumps

The Neptune Series 8000 "dia-PUMP" is a hydraulically- actuated diaphragm pump designed for high volume metering applications such as regeneration, pretreatment and waste treatment. Both simplex and duplex models are available.

High Volume High Pressure Metering Pumps

High Volume High Pressure Metering Pumps Features: Capacities to 160 gph (605 lph). Pressures to 3500 psi (245 kg/cm2). Accepts standard 56C motor. Pump capacity is adjustable by micrometer dial while pump is running or stopped. Capacity Control Options: Pneumatic and electric positioners or variable speed drives are available for automatic capacity control.

Hydraulic Diaphragm Metering Pumps

Neptune Model 481-S and 501-S Hydraulic Diaphragm Metering Pumps are built to deliver very low flows, repeatable and accurate ranging down to quarts per day. Discharge pressures are higher than are possible with mechanical diaphragm pumps. Explosion-proof models are available for use in hazardous atmospheres.

Metering Pumps - Series 500

Variable Oil By-pass™ stroke adjustment allows better valve performance than variable linkage designs. The valve checks have extra time to seat even in heavy liquids since they are idle during the by-pass portion of the suction and discharge strokes.

Neptune Series 500 Tubular Diaphragm Pumps are engineered for viscous fluids up to 20,000 cP and for medium slurries up to 10% solids.
Feed Systems
Polymer Makedown System
Accessories